ABOUT US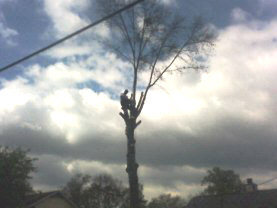 ^Andrew Morgan shown here while climbing^
RovingArborist™ Tree Service is owned and operated by Andrew Morgan, a 30 year tree climber started as a result of being introduced to the NETWORK MARKETING INDUSTRY.

"After being introduced to marketing as a lucrative home business opportunity, I soon realized that I would have to start yet another business in order to fund my marketing up until such time that the marketing would become self funding. I had some kind of sleep disorder at the time and was not able to keep a JOB, so, my own business was the only way for me to survive and succeed with too. Prior to climbing trees, before having even considered the tree service industry, I was taught some success mind sets by my marketing mentors. One most important fact they taught me was that action overcomes fear. I had a GRAVE fear of heights! When looking for the 2nd business that I could start and do, I found that there is good money in the climbing and removal of hazardous trees from over homes. BING! My mind went off like a bomb: THAT IS IT! I will have ALL the funds I need because action overcomes fear, and since MY fear is so great, I will have to climb a million trees to overcome the fear, thus making the funds I need. hahahaha."

At that time, Mr. Morgan established his business, now RovingArborist™ Tree Service, to serve the community while at the same time funding his marketing career.

"I climbed THREE FULL YEARS before I overcame the fear."
RovingArborist™ Tree & Lawn Services